Details

Category: Industrial Compact Flash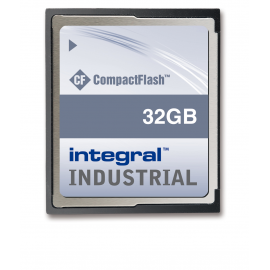 The Integral Platinum (Pt) CompactFlash memory card has a super-speed SLC chipset, operating at industrial temperatures. For the ultimate in reliability and performance Platinum Series CompactFlash is the perfect choice.
Integral Memory Platinum (Pt) Series CompactFlash memory card (CF) is a high capacity Solid State storage product that complies fully with the PC card standard Release 8.0 and is compatible with CompactFlash specification versions 3.0 and 4.1. The Integral Platinum Series CF card comes with full BOM control and a long life cycle. Custom ID and content loading are available on request.
Features:
Industry Leading iTemp SLC NAND Flash Technology
CF Type I Form Factor
Supported Interfaces: PCMCIA / IDE interface (support upto PIO mode 6 / multi DMA mode 4 / PCMCIA ultra DMA mode 5 / ultra DMA mode 6
Dual Voltage support
Power management
Power saving mode
Power cycling